The analysis of raw materials such as wheat, barley and rapeseed cake is an essential stage in the manufacturing of breeding animal feed. It helps establish their properties, namely in terms of humidity, proteins, starch, etc. This data helps formulation technicians optimise the feed's nutritional quality by referring to the developed matrix.
MiXscience works with Artémis Laboratoire, dedicated to animal nutrition and animal health.
It is Positioned among the 1st private companies in the analysis in animal nutrition.
The Laboratoiry enables 50 000 samples of raw materials or compound feed premixes processed per year.
4 main activities: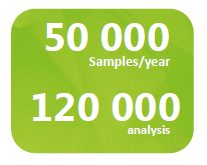 Find the web site Artemis Laboratory at the following address: